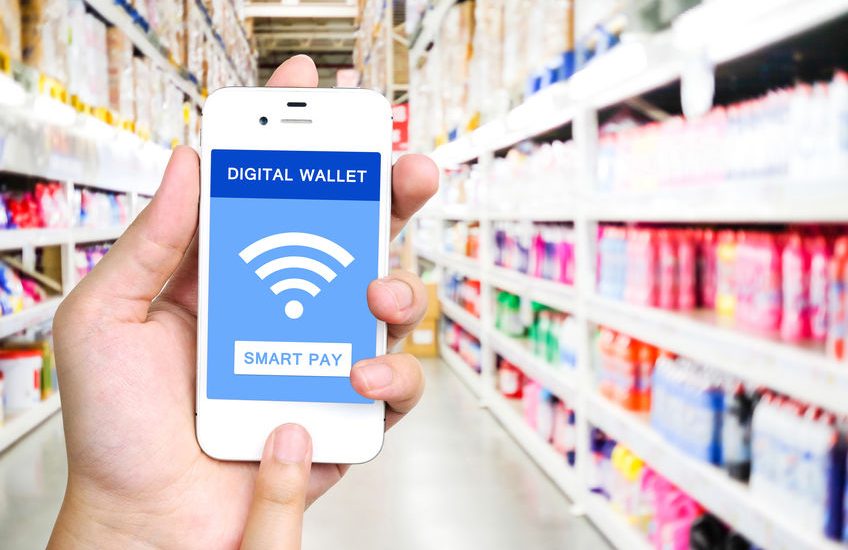 How Digital Wallets Work:
A digital wallet is a system that securely stores the user's payment information and passwords. Also known as an e-wallet, it can be used with mobile payment systems that allow shoppers to pay for purchases with a smartphone equipped with the proper app at an NFC-enabled point-of-sale (POS) terminal. 
There are three major components of a digital wallet: the system, or electronic infrastructure; the application, or software; and the device used by the wallet's owner. Digital wallets link the user's bank account, credit and debit card information to a smartphone app. 
Digital Wallets at the POS:
Shoppers can use a digital wallet to pay for a purchase by simply tapping or waving the enabled device in front of the NFC-enabled terminal at checkout. This also known as a contactless payment transaction. If required, the customer provides a passcode or scans a finger to approve the transaction. The digital wallet software provides security and encryption for both personal information and the transaction information. 
The NFC receiver in the terminal reads the signal from the device. The Secure Element (SE), a microchip in the terminal where personal and financial information is stored, validates the transaction, which is then authorized by the processor. The shopper's credit card is then charged and they receive a sales receipt, just like any other transaction. 
Benefits of Digital Wallet:
More than any other form of payment, the digital wallet requires buy-in from consumers and merchants alike. Today's consumers expect their smartphones to simplify and improve their lives. Using a digital wallet to organize and store multiple payment types, loyalty cards, digital coupons and personal data has the capability to do that. 
In addition to managing payments and accounts, a digital wallet user can receive offers from selected merchants and track and spend reward or loyalty points. It can also store digital receipts, warranty information, and receive alerts about the account. 
As more shoppers become as comfortable with digital wallets as they are with their smartphones, retailers need to upgrade their processing equipment to NFC technology to meet their customers' expectations. Fortunately, NFC-compatible terminals come equipped to process EMV® transactions as well, so the transition is simplified.